Get the dirty thoughts out of your head, I won an award, which is almost as good as the other thing you are thinking of,
Ok
maybe not but close.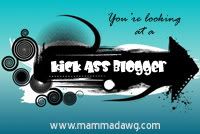 Choose 5
bloggers
that you feel are "Kick Ass
Bloggers
"
Let 'em know in your post or via email, twitter or blog comments that they've received an award
Share the love and link back to both the person who awarded you and back to www.mammadawg.com
Hop on back to the
kick ass blogger award HQ
to sign Mr.
Linky
then pass it on!
Thank you so much
Monkling
for the award.
When I tried to figure out who to give the award to I decided to just pick the first 5 people that come to mind every single day. There are about 5 blogs that I HAVE to check every day to see what is going on. I'm sure some of them already have the award but I don't care.
1.
Hallie
She makes me laugh....or gag, every day.
2.
Kim
She is such a caring person who can make anyone feel better. She already won this award but by golly she is getting it again.
3.
Monkling
Has such a great sense of humor, and like myself is starting down that road we call " empty nest."
4.
Kellen
Has a house full of kids and a great sense of humor.
5.
Kimmy
Has a great sense of humor AND a great friendship with Hallie. Now that her kids are in school I'm sure we will hear more from Kimmy. Plus anyone with the word blender in her name should get an award.
Now I am off to tell each of these people about their awards.......have a great weekend.